Written by Annabel McCarthy, 14 July 2019
Aotearoa's first Youth Parliament was held to mark 20 years since the voting age was lowered to 18. As this year's Youth MPs prepare for the ninth Youth Parliament, Annabel McCarthy* asks whether lowering the voting age once again would address democratic disengagement among the country's youth.
Prior to the 1960s, voters in New Zealand had to be at least 21. An increasing student interest in politics propelled Parliament to reduce the voting age. Parliament did this in two steps, first lowering it to 20 in 1969, and then to 18 in 1974.
Twenty years later, in 1994, the first Youth Parliament was held in commemoration.
Youth Parliament is an initiative led by the Minister for Youth Peeni Henare. Its purpose is to promote civic engagement among Aotearoa's youth and to provide an opportunity for young people to be heard by key decision makers on issues they are passionate about.
Each Parliamentary term, members of parliament select a young person, aged between 16 and 18, to represent them and their community as a Youth Member of Parliament.
During this time, Youth MPs take part in a mock bill debate, sit on various Select Committees, and ask Cabinet Ministers questions in a mock Question Time.
Labour MP and Minister Kris Faafoi attended the first Youth Parliament in 1994. He is one of only three Youth MPs who have then gone on to be elected into parliament.
For Faafoi, the experience removed the "mystique" of parliament and helped him get over a mental barrier when he first came to work as an MP.
He admitted the event only provided "an insight to a fraction of a fraction of a fraction of an MP's life" but said it inspired him to want to have a go.
"You could see people that were similar to you doing the job," he said.
"It's a special working place, but it's also a working place where, I think, we need normal people to be here and I'd consider myself, hopefully, as a relatively normal person."
Following the success of the first Youth Parliament, Cabinet invited the then Minister of Youth Affairs, Roger McClay, to hold Youth Parliament on a regular basis.
Since then, Youth Parliament has evolved from a one-day educational event to a six-month long programme with dedicated full-time staff.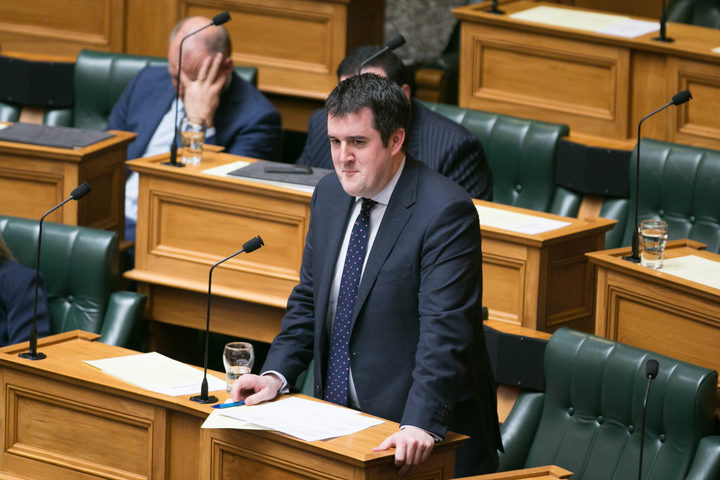 National MP Chris Bishop taking part in a debate in the chamber. Photo: VNP / Daniela Maoate-Cox
National MP Chris Bishop was selected as a Youth MP in 2000 and said his experience gave him "a taste of the bug for politics". He still remembers the "real thrill" of sitting in the debating chamber and the "adrenaline rush" that came with talking to the media on the black and white tiles.
Interestingly, two issues that were addressed during Bishop's tenure as a Youth MP were the decriminalisation of marijuana and euthanasia, both of which have surfaced again recently.
"It's just an indication that issues never really die, or they never go away," Mr Bishop said .
One issue at the forefront of discussion among this year's youth MPs is the voting age.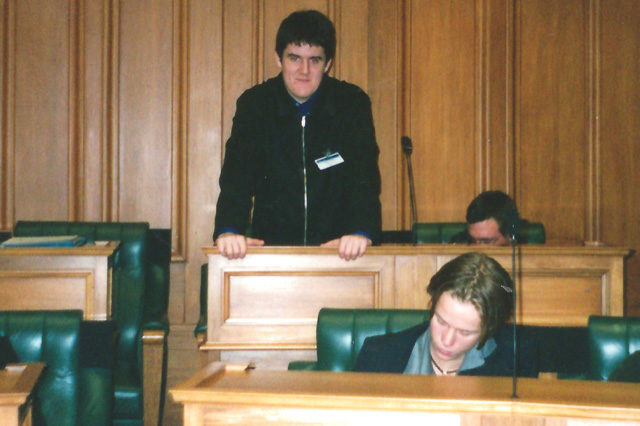 Former youth MP Chris Bishop in 2000 way before he became a real MP for National. Photo: Supplied / Chris Bishop
Despite Youth Parliament's connection to the voting age, many youth MPs are still not eligible to vote.
Molly Doyle, 17, is one Youth MP who wants this to change. She is part of a non-partisan campaign run by youth seeking to lower the voting age in Aotearoa.
"Our democracy is based on one person, one vote," Molly said.
"People who are 16 can work full-time, consent to sex, drive, and own guns. They should also be able to vote."
While Prime Minister Jacinda Ardern said lowering the voting age was not on the government's agenda, the group was confident they could change people's mind on the issue.
"The campaign will show how 16 and 17 year olds voting will strengthen our democracy. Scotland, Austria and many other countries already have the voting age at 16," Molly said..
"Young people need a greater voice because the long-term issues facing New Zealand are most going to affect us."
Youth Parliament 2019 will hold a two day event at Parliament on 16 and 17 July and will be broadcast live on Parliament TV and online.
*Annabel McCarthy is a member of the Youth Press Gallery which takes the role of independent media reporting on Youth MPs and Youth Parliament 2019. This article was commissioned specifically for The House.