Written by Harry Lock, 20 Sept 2019
Back in 1969, Neil Armstrong took the first step on the moon, the Beatles did their last public performance and young New Zealanders had to be 21 to vote.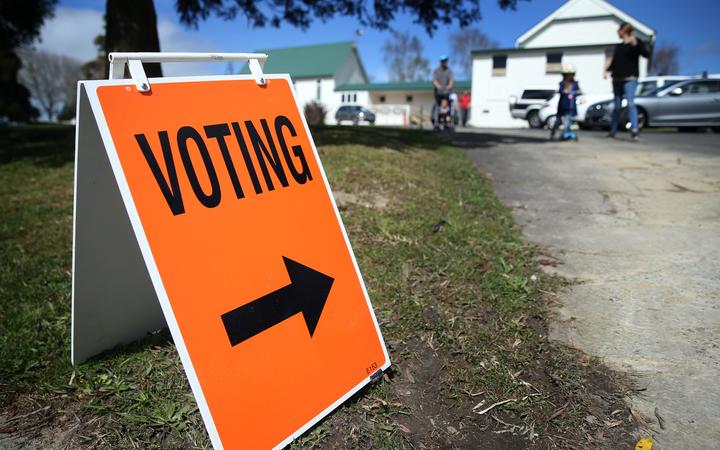 Photo: AFP or licensors
But that year, in line with sweeping changes across the world, the voting age was reduced. But where other countries gave 18-year-olds the vote, New Zealand settled on 20.
That stayed the same until 1974, when New Zealand followed the world and reduced it down to 18.
The voting age debate in New Zealand: A History
While any legal movement on the voting age has been static, the debate has been lively!
It was raised in 2007 by then-Green MP Sue Bradford.
Fast forward to 2018 and the Children's Commissioner, Judge Andrew Becroft threw his hat into the ring coming out in favour of the reduction.
Earlier this year, Youth MP, Molly Doyle, called for 16-year-olds to be given the vote.
Which brings us to today – and the launch of youth-led campaign "Make It 16".
Led by young people, aged either side of 16, the campaign has called for New Zealand to join the other eleven countries – including Austria, Brazil, and Scotland.
"Make It 16" member Pierson Palmer explained why he was involved with the campaign.
"I'm someone who's pretty engaged in politics, and I'm getting kind tired of listening to adults being very condescending, knowing that we actually, in the long run, have no say, and in the end, our points of view are being trivialised by politicians and by people older than us just because of our age."
No implications without representation
The problem at the moment, he said, is that the issues affecting young people are not being represented at the ballot box.
He said he hopes lowering the voting age will highlight issues that especially affect young people.
"We'd hope that this would mean political parties are considering our points of view a lot more," he said.
"There are obviously a lot of huge issues that are to do with youth that aren't being considered right now, such as mental health. And we hope that by us having a say, will mean that political parties will be forced to come to the table and consider our problems."
But whenever the question of the voting age gets raised, the arguments to counter it are also raised.
Political commentator and Manawatu lawyer, Liam Hehir, a Manawatū lawyer, is one of those who does not buy into it.
Mr Hehir, who used to be involved in the National Party, said 16-year-olds aren't developed enough to vote.
"I'm against it [reducing the voting age]," he said. "We shouldn't be changing the electorate to include children. You know – children still have developing brains."
"When you're 16/17, you're still in school. You're subject to a whole lot of influences.
"You haven't had a lot of experience outside the family or living on your own. And with that experience comes a lot of perspective that you just don't have as a child."
With great (voting) power, comes great (civic) responsibility
Many critics of reducing the voting age follow the same line of argument as Mr Hehir, believing 16-year-olds don't have the mental maturity or knowledge of the political structures to be able to wisely and confidently make their voices heard during an election.
Further than that, Mr Hehir said if the voting age, the logical consequence is that 16-year-olds should also sit on a jury.
"If you say, well lower one and not the other – well why? Because, really those two ideas are tied up in this idea of civic responsibility."
It's not an idea that filled Mr Hehir with great enthusiasm.
"Nobody in their right mind thinks that sixteen or seventeen year old should be sitting on jury," he said.
Another problem comes around whether 16-year-olds would be bothered enough to vote in an election. Based on their immediate elders – the 18-24 year-olds – that might not be a misplaced grievance.
The 18-24 age group has the lowest rate of people enrolled on the electoral register (60 percent).
Waikato University political scientist Dr Patrick Barrett said there is evidence that would suggest giving younger teens the vote could help increase turnout.
"Lowering the voting age, if it was implemented alongside a more comprehensive programme of citizenship education in schools, could be quite influential and quite powerful actually in terms of promoting that wider sense of civic culture and active citizenship."
While Prime Minister Jacinda Ardern did not commit to saying whether she supports lowering the voting age to 16, she said Civic education has long been a focus for the government.
"What we've prioritised as a government," she said, "first and foremost, is making sure that those who are eligible to vote now are doing so, and that we have good civic education in our schools to prepare young people for voting."
In 1974, the last time the voting age was reduced in New Zealand, youth protests in response to the Vietnam War were largely responsible.
The "Make It 16" campaign leaders are hoping will hope the role of young people in the current climate strikes could persuade the legislators to lower it again, and truly make it 16.